Para ver esta página en español haga clic aquí
About the Project
A community inspired mural in North Fair Oaks is currently being painted on 19 panels located on the 5th Avenue underpass pedestrian walkway by artist Emily Fromm.
All 19 panels will be posted here after the Mural Celebration event!
---
SAVE THE DATE

Mural Celebration
Saturday, October 7
11:30 am –1:00 pm
5th Avenue Underpass (near 118 Fifth Avenue), North Fair Oaks
• All are welcome!
• Come meet the artist Emily Fromm
• 19 new mural panels
• Art Walk
• Community fun
• Refreshments
• Program at 12:00
Walking or biking to the event is encouraged
Project Sponsors:
• San Mateo County Supervisor Warren Slocum
• San Mateo Office of Arts & Culture
• San Mateo County Arts Commission
Comunity Sponsors:
• Collectivo Cultural de North Fair Oaks
• North Fair Oaks Community Council
• North Fair Oaks Community Alliance
Partners
• El Concilio of san mateo county
• Casa Circulo Cultural
• San Mateo County Library–North Fair Oaks
• Siena Youth Center
• Redwood City Parks & Art Foundation
• La Quinta Pizza
• Joel Bartlett Photographer
• Artist helpers
---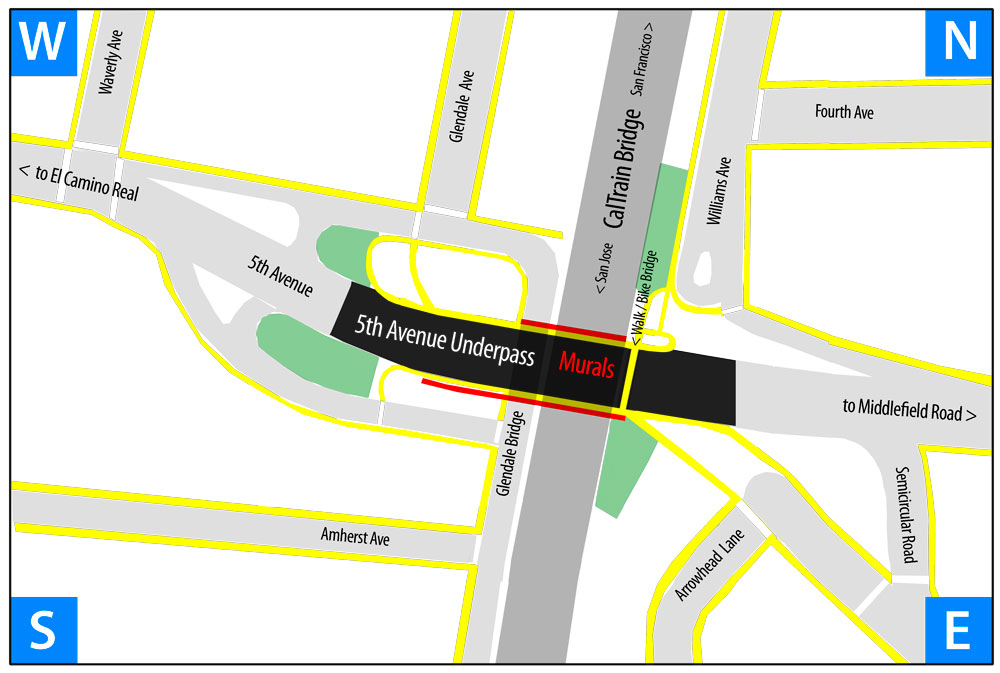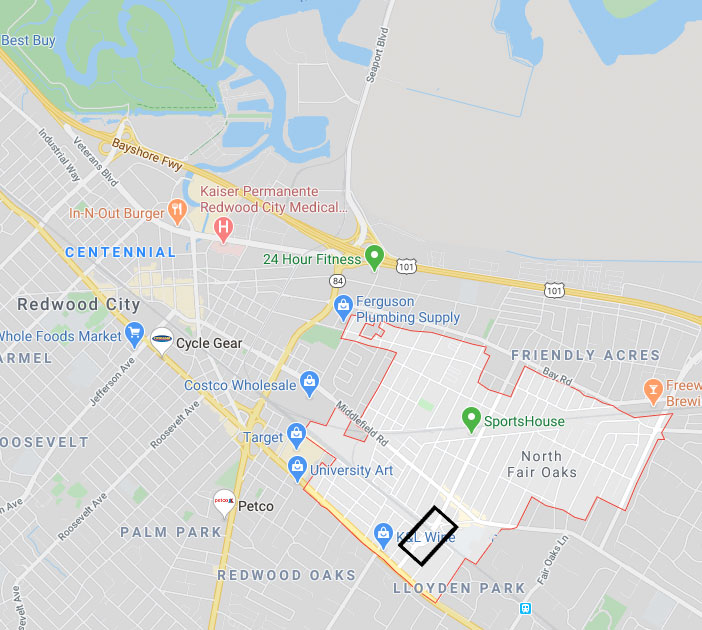 ---
Project Objectives:
Goals of this project include bringing culturally significant public art to the North Fair Oaks community and enhancing the beautification of the community, specifically on the 5th Avenue underpass. The underpass is a well-travelled pedestrian and bicycle path used by residents and visitors.
Improving this area would unite a community divided by the Caltrain tracks, encourage neighborhood cross-fertilization, celebrate the diversity of our community, make the area safer, discourage graffiti, serve as a gateway to North Fair Oaks and encourage walking & biking to the transportation corridors of Middlefield Road and El Camino Real. This vision helps fullfill criteria stipulated in the North Fair Oaks Community Plan of 2011 including safety, transportation and open space.
---
In Progress Events:
Volunteer to help paint the mural here.
---
Completed Events:
Community Survey (COMPLETE)
August 14 – Sept 30, 2022
Community Meeting #1: Mural Topics (COMPLETE)
November 29, 2022. 6:30pm – 8:00pm
Community Meeting #2: Artist Presentations (COMPLETE)
February 7, 2023. 6:00pm – 8:00pm
Community Paint Days in August & September

Presentations by the three mural finalists Morgan Bricca, Emily Fromm, and Elizabeth Gomez
Recorded event on YouTube (1 hour, 32 minutes)
NOTE: Unfortunately, the first 15 minutes of this event was not recorded due to technical difficulties. This recording begins with artist Morgan Bricca presenting her work several minutes after she began her presentation. We apologize for this inconvenience.
---
Upcoming Events:
Public Celebration of completed mural
October 7, 2023
---
Artist Selection Process:
Artist Information & Project Specifications
---
Project Sponsors:
• San Mateo County Supervisor Warren Slocum
• San Mateo County Office of Arts & Culture
• San Mateo County Arts Commission
Community Sponsors:
• CCNFO (Culture Collective of NFO / Colectivo Cultural de NFO)
• North Fair Oaks Community Council
• North Fair Oaks Community Alliance
• Healthy Community Mural Project Committee
Partners:
• El Concilio of San Mateo County
• Casa Circulo Cultural
• San Mateo County Library–North Fair Oaks
• Siena Youth Center
• La Quinta Pizza
• Joel Bartlett Photographer
Special Thanks:
• Redwood City Parks & Art Foundation